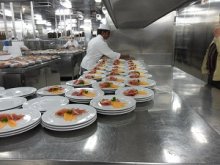 A process safety expert and his wife went on a cruise. Part of the cruise included a tour of the ship's impressive galley and food-serving facilities. The tour was led by one of the ship's sous chefs.
The process safety expert realized that he was looking at a small chemical plant. In front of him were processes that involved chemical reactions, heat exchange and moderately high pressures. So he naturally started to ask the sous chef HAZOP-style questions on the following lines.
Q: Do you use natural gas for cooking?
A: No — all ovens are stoves and ranges are electrically heated.
Q: Good. But has there ever been a fire?
A: Yes, there once was a fire in the galley.
The process safety expert was about to ask follow-up questions to do with the details of the incident and its root causes when his wife said, "Oh stop talking, enjoy the cruise and get a life".
You are welcome to use this Safety Moment in your workplace. But please read Use of Safety Moments.
Copyright © Ian Sutton. 2020. All Rights Reserved.