Safety Moment #1: The Dangers of Safety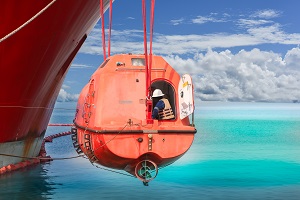 Contents
Introduction
Mumbai High North
Piper Alpha
Stair Treads
Lifeboat Drill
Further Information
Introduction
Analysis of catastrophic events frequently shows that one of the causes was that someone was improving a safety system and, in doing so, degraded the integrity of the system — at least for a short period of time — to a point where a catastrophic event took place. Some of the reasons for this point of view are discussed at the 'Dangers of Safety' topic page, which also lists other safety moments and articles to do with this issue.
The following are listed as contributing factors:
Safety work can itself be hazardous.
Attending to minor injuries during abnormal circumstances.
Bypassing safety systems to implement improved safety systems
The following examples illustrate the theme to do with the 'Dangers of Safety'.
Mumbai High North
This event took place on an offshore oil and gas complex west of the City of Mumbai in India in the year 2005. As always, there were multiple factors that led up to the event, which resulted in the destruction of the complex, the loss of about 22 lives and injuries to many more.
One of the causes of this catastrophe was that they were attempting to rescue a galley worker who had cut off part of his thumb. During this process a rescue vessel collided with one of the complex's platforms and ruptured some piping containing hydrocarbons.
Piper Alpha
One of the factors in the well-known Piper Alpha catastrophe that occurred in the year 1988 was a required safety inspection.
The condensate pumps that transferred light hydrocarbons from the platform to the beach were fitted with pressure safety relief valves. One of the pumps had been shut down and its relief valve taken to an onshore testing facility. The second pump was put into service. Unfortunately it shut down for mechanical reasons, so the operations team started the pump with the missing relief valve. The cover plate on the relief valve flange was not of the proper pressure rating; a large leak occurred and the leaking materials ignited.
Stair Treads
. . . . .