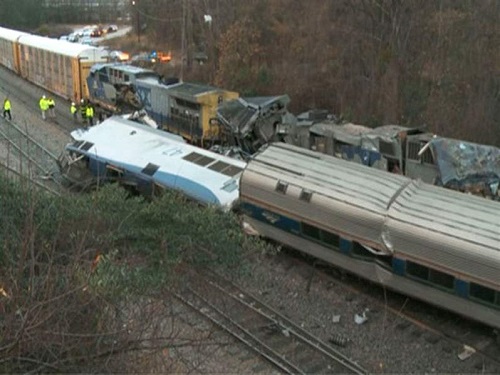 On February 4th an Amtrak train in South Carolina crashed into a parked freight train. The investigation has only just started so any conclusions that we draw from this event, in which two people died and many others were injured, must be tentative and subject to revision.
However, it is known that the Amtrak passenger train, which was traveling at around 60 mph, was wrongly diverted to a siding on which was parked a CSX freight train.
Robert Sumwalt, chairman of the National Transportation Safety Board, said investigators found a track switch had been set in a position that forced the Amtrak train off the main track and onto the siding.
It is also known that a GPS-based system known as Positive Train Control was being installed at this location. The purpose of the system is to prevent incidents such as this from occurring.
Sumwalt said that positive train control — a GPS-based safety system that can automatically slow or stop trains — could have prevented the accident.
As I was listening to the early reports my attention was caught by a statement — which will obviously need to be confirmed — that some of the existing signaling system had been disabled while the train control equipment was being installed.
We will find out whether this information is correct when the formal reports are issued. But this incident does remind us that safety programs can create their own hazards, and that these new hazards may pose a greater risk than the problem that they were intended to solve. The following examples come to mind:
A maintenance technician was replacing stair treads (a routine task) in order to ensure that no one slipped when walking on the stairs. During the course of his work the technician fell through a gap in the stairs and later died of his injuries.
A technician was preparing to stop a very small leak that was creating a near-trivial environmental problem. As he was setting up the task a drain valve fell out and he was seriously injured by hot, corrosive liquid.
Launching lifeboats during offshore evacuation drills can be hazardous. Indeed, in one such drill a man died.
Requiring technicians to wear PPE (personal protective equipment) may reduce their mobility and efficiency and make it more difficult for them to escape from a dangerous situation.
Too many warnings and disclaimers in procedures may result in people not bothering to read those procedures.
Issues such as these point out the need to evaluate the safety consequences of all activities — even those that are intended to increase safety.
---
Some of the material in this Safety Moment is taken from Chapter 11 of the book Process Risk and Reliability Management.