Safety Moment #23: More Dangers of Safety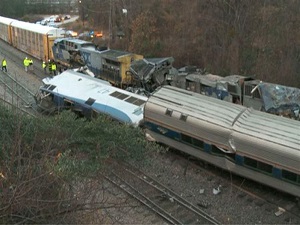 In Safety Moment #1: The Dangers of Safety it was pointed out that programs and actions to improve safety can be a factor in a major catastrophe. This Safety Moment describes an incident involving a passenger and a freight train that follows the same theme.
On February 4th 2018 an Amtrak passenger train in South Carolina was incorrectly diverted from the mainline on to a siding. It crashed into a parked freight train. There were two fatalities and many others were injured. Early reports are that the Amtrak train, which was traveling at around 60 mph, was wrongly diverted to a siding and crashed headlong into a parked CSX freight train.
Robert Sumwalt, chairman of the National Transportation Safety Board, said investigators found a track switch had been set in a position that forced the Amtrak train off the main track and onto the siding.
A GPS-based system known as Positive Train Control was being installed at this location. The purpose of the system is to prevent incidents such as this from occurring.
Sumwalt said that positive train control — a GPS-based safety system that can automatically slow or stop trains — could have prevented the accident.
It is reported that some of the existing signaling system had been disabled while the train control equipment was being installed. In other words — this project to improve safety was a key factor in this catastrophic event.
For further discussion to do with the concept of 'Dangers of Safety' please refer to our topic page with that name.
You are welcome to use this Safety Moment in your workplace. But there are restrictions — please read
Use of Safety Moments
.
Copyright © Ian Sutton. 2018. All Rights Reserved.