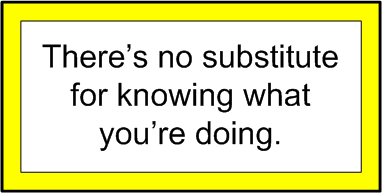 Last week we started a new series of safety moments to do with process safety "wisdom". The first in the series was Safety Moment #24: Where Then Shall (Process Safety) Wisdom Be Found? 
We showed the following Venn Diagram and suggested that process safety wisdom has three sources, each of which is a necessary but not sufficient condition for a successful operational excellence program.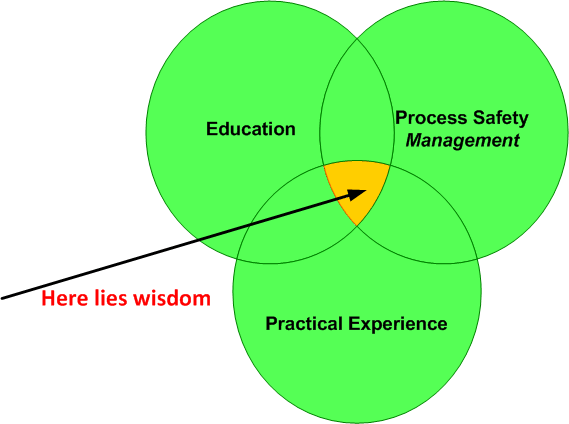 Practical Experience 
In this current series of Safety Moments we focus on the bottom circle in the Venn Diagram: Practical Experience. We explore the potential for capturing such experience in an organized manner. We will also discuss the promotion of process safety management to operational excellence.
The title for this Safety Moment — "There's no substitute for knowing what you're doing" — was used by a large engineering company as a part of their marketing strategy. They even used the phrase as a bumper sticker. The message that they were conveying is that the company had on its payroll many highly experienced engineers and technical specialists who could quickly come up with effective design strategies based on what they already knew.
The challenge — and it's a tough one — is to work out how to organize and structure the responses of experienced people who "know just what to do" without a need for manuals, guidance or formal training. Is it possible to train or educate (those two words have profoundly different meanings) new employees such that they can quickly pick up the experience and insights that they currently lack?
It is also important to recognize that there are times when the advice of experienced personnel is best ignored and when it is better to go by the book. Experience can encourage people to take short cuts and skip precautionary actions. As we will discuss in a future safety moment such behavior can lead to complacency and management sloppiness.
Story Time
An electrical power plant used boilers that generated high pressure steam.
The boiler house was under the control of a superintendent with many, many years of experience. Eventually, as happens to all of us, time caught up with him and he decided to retire.
A few weeks after his departure one of the boilers started making an inexplicable banging noise. No one could figure out the cause of the noise. Management called in boiler consultants, the process safety coordinator organized a HAZOP, the inspection group conducted extensive surveys — all to no avail. The banging noise continued.
So they decided to call up the retired superintendent and ask him if could figure out what the problem was. He agreed, came into the boiler house, immediately walked over to an obscure section of the boiler piping and hit that piping very hard with a large wrench. The banging stopped.
Management was, of course, delighted and asked the retired superintendent to send his invoice.
His invoice was for $10,000.
This led to outrage. How, management asked, could he justify such a large amount of money for spending just a few minutes in the boiler house. So he agreed to revise the invoice; it now read:
For hitting the pipe: $100
For knowing where to hit the pipe: $9,900.