Safety Moment #37: Maximum Allowable Working Pressure (MAWP)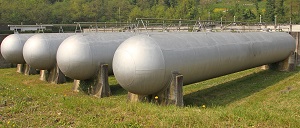 Contents
Definition
Design Process
Effect of Temperature
Pressure vessels must always operate at a pressure lower than their Maximum Allowable Working Pressure (MAWP). The ASME (American Society of Mechanical Engineers) defines the term as follows.
The maximum allowable working pressure for a vessel is the maximum pressure permissible at the top of the vessel in its normal operating position at the designed coincident temperature specified for that pressure.
Definition
It is useful to examine the term Maximum Allowable Working Pressure by looking at each of the words that make up the phrase.
The words Maximum Allowable mean that those who are responsible for the pressure vessel of interest must not let the pressure inside that vessel exceed a certain value. For some equipment, such as storage tanks, there may also be a minimum allowable pressure.
The next part of the term is Working Pressure. This means that the pressure in the vessel should never exceed the MAWP value during normal operations. And, if the pressure does go above that value, action must be taken to bring it down. The option of doing nothing is not an option. However, a small deviation above MAWP is not an emergency — the design values, as discussed below, are much greater.
Design Process
The manner in which MAWP is determined can be illustrated using pressure vessel V-101 in the second standard example (Chapter 1 of the book Process Risk and Reliability Management).
. . .
You are welcome to use this Safety Moment in your workplace. But there are restrictions — please read
Use of Safety Moments
.
Copyright © Ian Sutton. 2018. All Rights Reserved.