Safety Moment #49: Safety Manual: Table of Contents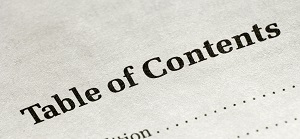 Many companies develop a Safety Manual as a means of organizing operations and maintenance work. Naturally, the details of what is in the Manual and how it is structured will vary depending on the type of process that is being operated and on local conditions. However, the outline provided here can be used as a generic starting point.
Introduction
Safety Policy and Philosophy

Regulatory Inspections / Litigation
Safety Meetings
Training/Recordkeeping
Process Unit Entry/Exit Procedures
Smoking Policy
Personnel Working Alone
Bulletin Boards
Housekeeping
Safety Signs and Color Coding
Machinery Guarding

Employee Exposure and Medical Records

Notification
Record Keeping
Medical Examinations
Access

Incident Reporting and Investigation

General
Near Miss Incident Reporting
Occupational Injuries and Illnesses

Hazardous Materials

Chemical Inventory List
Material Safety Data Sheets Management
Labels
Contractor Notification
Recordkeeping
Hazard Communication Program
HAZWOPER
Combustible and Flammable Liquid Storage and Handling
On-Line Blending
Asbestos
Benzene
Hydrogen Sulfide
H2S Detection Equipment
Sulfur Dioxide
Ammonia
Hydrofluoric Acid
Sulfuric Acid     
Caustic Soda (NaOH) 
Caustic Potash (KOH)
Chlorine
Hexavalent Chromium
. . .

Environmental

Solid Waste Handling
Spill Prevention Plan
Screwed Pipe
Sewers and Drains

Electrical

Area Classification
Equipment Grounding
Ground Fault Interrupters
Electrical Power Generation, Distribution and Transmission
Overhead Lines
Climbing Electrical Line Poles
Working on Switchgear
Stray Electric Currents

Authorization to Work
. . . . . .
You are welcome to use our Safety Moments in your workplace. But there are restrictions — please read
Use of Safety Moments
.
Copyright © Ian Sutton. 2018. All Rights Reserved.