Safety Moment #49: Safety Manual: Table of Contents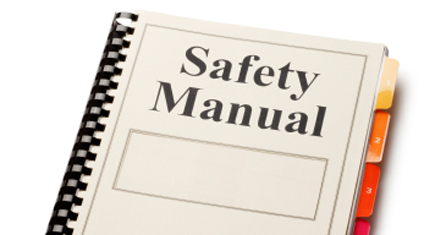 Many companies develop a Safety Manual as a means of organizing operations and maintenance work. Naturally, the details of what is in the Manual and how it is structured will vary depending on the type of process that is being operated and on local conditions. However, the outline provided here can be used as a generic starting point.
Introduction
Safety Policy and Philosophy

Regulatory Inspections / Litigation
Safety Meetings
Training/Recordkeeping
Process Unit Entry/Exit Procedures
Smoking Policy
Personnel Working Alone
Bulletin Boards
Housekeeping
Safety Signs and Color Coding
Machinery Guarding

Employee Exposure and Medical Records

Notification
Record Keeping
Medical Examinations
Access

Incident Reporting and Investigation

General
Near Miss Incident Reporting
Occupational Injuries and Illnesses

Hazardous Materials

Chemical Inventory List
Material Safety Data Sheets Management
Labels
Contractor Notification
Recordkeeping
Hazard Communication Program
HAZWOPER
Combustible and Flammable Liquid Storage and Handling
On-Line Blending
Asbestos
Benzene
Hydrogen Sulfide
H2S Detection Equipment
Sulfur Dioxide
Ammonia
Hydrofluoric Acid
Sulfuric Acid     
Caustic Soda (NaOH) 
Caustic Potash (KOH)
Chlorine
Hexavalent Chromium
. . .

Environmental

Solid Waste Handling
Spill Prevention Plan
Screwed Pipe
Sewers and Drains

Electrical

Area Classification
Equipment Grounding
Ground Fault Interrupters
Electrical Power Generation, Distribution and Transmission
Overhead Lines
Climbing Electrical Line Poles
Working on Switchgear
Stray Electric Currents

Authorization to Work

Permits and Procedures
Energy Isolation Procedures
Gas Testing Policy
Hot Work Permit
Welding
Engineering and Administrative Controls
Sign Requirements
Permit Requirements
Tank Roofs
Fire Watch
Atmospheric Testing

Lockout / Tagout

Locks and Tags
Lockboxes
Blinding and Equipment Isolation
Barricades
Restoring Service to Equipment

Confined Space Entry

General
Permit System
Contractors
Rescue and Emergency Services
Block Valve Pits

Alarm Systems

Critical Alarms
Shutdown Systems

Combustible Gas Detectors

Portable
Fixed
Calibration Schedule

Driving

Reporting Accidents
Heavy Vehicles
Light Vehicles
Vehicle Backing
All-Terrain Vehicles
Use of Mobile Phones/Texting
Forklift and Truck Operations
Vacuum Trucks

Compressed 

Oxygen
Acetylene
Transporting Cylinders
Storage

Tank/Vessel Cleaning

General
Tank Preparation
Chemical Cleaning
Loading/Unloading Flammable Liquids and Compressed Gas

Personal Protective Equipment (PPE)

Safety Glasses
Goggles
Face Shields
Fire-Resistant Clothing
Respiratory Protective Equipment
Breathing Air Quality
Hearing Protection
Face Protection
Facial Hair Policy

Fall Protection

Ladders and Scaffolding
Fall Protection System
Fall Arrest System Equipment
Fall Protection Anchor Points

Health

Hearing Conservation
Audiometric Testing
Contact Lenses
Heat/Cold Stress
Bloodborne Pathogens Exposure Control Plan
Vaccination and Follow-up Procedures
Carcinogenic Materials
Radiation Safety
Refractory Ceramic Fiber (Asbestos Substitute Fibers)

Emergency Management

Emergency Notification
Securing Buildings for a Toxic Gas Release
Fixed Fire Detection and Extinguishing Systems
Fire Water Systems
Portable Fire Extinguishers
H2S Emergencies

First Aid

Treatment
Training
First Aid Kits

Hand and Power Tools

Hand Tools
Abrasive Wheel Machinery
Pneumatic Tools
Liquid Fuel Tools

Cranes, Chain Hoists, Sling Ropes

Overhead Hoists
Winch Trucks
Wire Ropes, Chains, and Slings
Tag Lines
Lifting and Rigging
Aerial Cages
Critical Lifts

Excavations, Trenching, Shoring

Safety Sign Requirements         
Permits

Simultaneous Operations (SIMOPs)
Pipelines

Pipeline Locating and Repair
Leak Repair on Shut-In Line
Probe Rods
Cold Leak Repairs on Live Lines
Corrosion Probe/Injection Quill In-Service Removal                          
Expandable Pipe Plugs

Offshore Operations

Fueling Requirements
Offshore Boat Use
Helicopter Safety
Personnel Baskets

Laboratories

Process Analyzer Building Entry
Use of Nitrogen

Office Safety
You are welcome to use this Safety Moment in your workplace. But there are restrictions — please read
Use of Safety Moments
.
Copyright © Ian Sutton. 2018. All Rights Reserved.