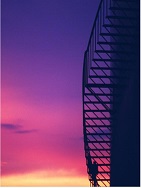 Overview
Storage tanks are widely used in the process industries to store liquids that are below their boiling point at atmospheric temperatures (some tanks may be insulated and they may have heating or cooling coils to adjust the temperature of the liquid that they are storing). Typically, the tank is either open to the atmosphere or to a system such as a flare or vent header that is at atmospheric pressure (this does not apply to floating roof tanks). Unlike pressure vessels, storage tanks cannot handle either high pressure or vacuum conditions.  

Broadly speaking, storage tanks fall into one of three categories: without a roof, with a fixed roof and with a floating roof. Tanks without a roof are unusual in the process industries because the contents are usually flammable or toxic and so must be contained. Also it is important that the liquid in the tank is not contaminated. However some tanks such as those for storing water may not need a roof.
The materials in this package provide information to do with the design and operation of storage tanks, including firefighting strategies.
The Package
This package consists of:
To order the package please use the 'Add to Cart' button at the top of this page. The contents of the module are provided in a zip file that you can download to your hard drive.
The Video
The 12 minute video Storage Tanks in the Process and Energy Industries is part of the package. It is also available at YouTube.
The Ebook
The 20 page ebook provides information to do with the design and operation of storage tanks, including guidance as to how to handle storage tank fires. It provides backup detail for the video. The Table of Contents is shown below.
Storage Tanks in the Process Industries
Functions of Storage Tanks 
Regulations and Standards
Types of Storage Tank 
Fixed Roof Tanks 
Floating Roof Tanks 
Plastic Tanks 
Stairs and Platforms 
Tank Design 
   Vents 
   Connections, Nozzles and Manways 
   Overflow Systems 
   Instrumentation 
Bund Walls / Berms 
Tank Farms 
Operations / Maintenance 
   Temperature Control 
   Rag Layers 
   BS&W 
   Solids Deposit 
   Filling and Emptying 
   Purging and Cleaning
Checklist Questions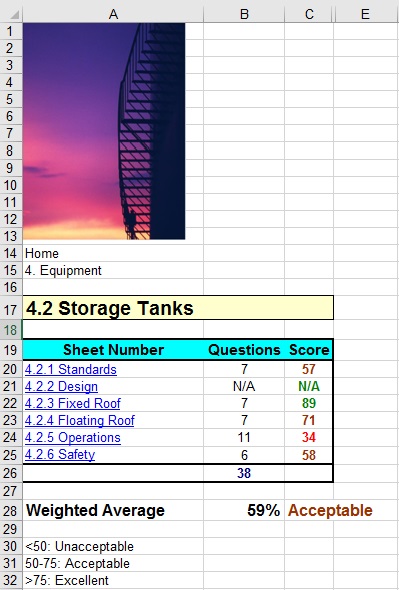 The checklist questions help you evaluate the quality of your Storage Tank operations. There are 6 spreadsheets with a total of 38 questions.
Guidance as to the use of checklists is provided here.
Test Questions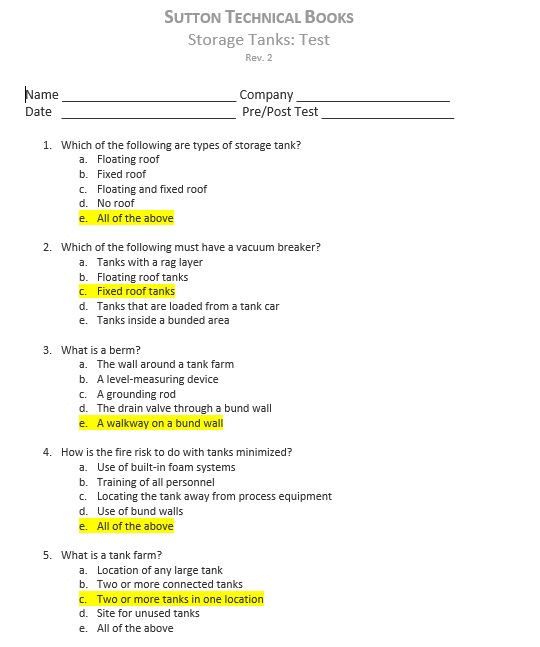 In order to help you understand your progress when learning about Storage Tanks we have prepared a set of multiple choice questions. Our answers to the questions are also provided.
Blog
Please check out our free blog - Plant Design and Operations - every so often for updated information to do with storage tanks and other process equipment.