Overview
Many of the activities that have been discussed in this series of ebooks are carried out as part of a project. Therefore, it is useful to review some of the basics of project management in the process industries - particularly the Phase/Gate system, and to show how process safety programs are integrated into projects.
The sketch shows the Phase/Gate method of managing a project.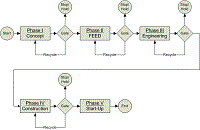 At the conclusion of each phase the project management team will select one of four options:
Proceed to the next stage (the project is a "go").
Recycle the current stage (usually because insufficient information is available to make an informed decision, or because project requirements/conditions have changed).
Put the project on hold.
Stop the project.
Factors that affect the phase / gate decision include the following:
The commercial/business case for the project given the information available at that point,
Selection of the best technical options,
The need for contingency plans, and
The safety and environmental risks associated with the project.
Table of Contents
Introduction 
Phase / Gate System 
Hazards Analysis on Projects 
Phase I — Concept Selection 
   Documents 
   Hazards Analysis
Phase II — Preliminary Design (FEED)
   Documents
   Hazards Analysis
Phase III — Detailed Engineering
   Documents
   Hazards Analysis
Phase IV — Fabrication and Construction 
   Precommissioning
   Punchlists 
   Transfer of Care, Custody and Control
   Documents
      Turnover Packages
      Procedures 
   Hazards Analysis
Phase V
   Commissioning
   Operational Readiness Review
   Startup and Line Out 
   Documents
      Start-Up Procedures
      Acceptance Test
      Warranty 
   Hazards Analysis 
Project Organization