Welcome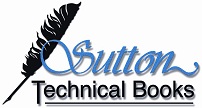 Welcome to Sutton Technical Books. We provide books, ebooks, videos and safety moments for managers, engineers and executives in the process and energy industries — covering chemicals, oil refining, offshore oil and gas and pipelines. Our goal is to provide practical information that will help you design and operate facilities that are safe, efficient and in compliance with rules and regulations. Catalog information is provided here.
We publish frequent articles and posts. If you would like to be notified on a regular basis (usually once a week) please subscribe.
In January 2022 we started a series of publications to do with the theme of Net Zero by 2050: Technology for a Changing Climate. The theme is that executives and managers are investing in new technologies to meet the business challenges to do with climate change and resource depletion. The posts, ebooks and videos that we publish aim to provide these managers with realistic guidance as to what can be achieved within the next 28 years. We will be publishing information regularly at the following address. 
---

For the latest information to do with the topics discussed at this site, please check in at the following LinkedIn groups.
Many organizations and companies have committed to a 'Net Zero by 2050' program. Their aim is to have no net emissions of greenhouse gases by the year 2050. This is, to say the least, a challenging target. Meeting the target provides companies in the energy and process industries to provide leadership.
This group discusses safety and environmental to do with the offshore oil and gas industries.
---
Newsletters
| | |
| --- | --- |
| | We publish newsletters and posts to do with Net Zero technology.  |
---
Catalog
We offer a wide range of books and ebooks for purchase. They fall into four broad categories.
Printed books, published by Elsevier (the price posted for the printed books may vary — the publisher frequently offers substantial discounts),
Ebooks published directly by Sutton Technical Books (.pdf format), and
The chapters of the printed books are available as ebooks from ScienceDirect (.pdf format).
The current catalog is shown below.
Copyright © Ian Sutton. 2023. All Rights Reserved.