Process Risk and Reliability Management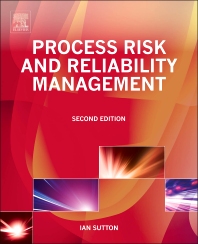 Ordering Information
Overview
This book provides comprehensive and practical guidance for the development and implementation of process safety management (PSM), operational integrity and operational excellence programs. It covers design and operations, and shows how to improve not only safety but also reliability, environmental performance, quality and profitability. Techniques and principles are illustrated with numerous examples, chemical plants, refineries, transportation, pipelines, and offshore oil and gas.
The information provided will help executives, managers and technical professionals achieve not only their current PSM goals but also to make the transition to a broader operational integrity strategy. The book focuses on the energy and process industries — from refineries to pipelines, chemical plants, transportation, energy and offshore facilities. The techniques described in the book can also be applied to a wide range of non-process industries.
The book is both thorough and practical. It discusses theoretical principles in a wide variety of areas such as management of change, risk analysis, and incident investigation, and then goes on to show how these principles work in practice, either in the design office or in an operating facility. The OSHA Process Safety Management (PSM) and BSEE Safety and Environmental Management Systems (SEMS) rules are covered in detail. 
The second edition has been expanded, revised and updated and many new sections have been added including: the impact of resource limitations, a review of some recent major incidents, the value of story-telling as a means of conveying process safety values and principles, and the impact of the proposed changes to the OSHA PSM standard.
Contents
The book has 20 chapters and 770 pages. (Details to do with each of the chapters are provided at the bottom of this page.)
Reviews
. . . Sutton says, "the best way of ensuring that a facility is safe and productive is to design it correctly in the first place, but, regardless of the quality of the design, it has to be operated by real people. This book," he goes on, "seeks to help both designers and operators."

And so it does. There's a wealth of very practical advice in this book, and if you implement the strategies Sutton suggests, you will have a safe, productive, and sustainable plant. 

Walter Boyes, Editor in Chief Control Global
This unique book is to safety what Perry's is to Chemical Engineering. Fully of practical facts and advice and invaluable to the novice or seasoned professional; and a comprehensive reference. Since acquiring my copy I have used it frequently and it has provided the answers I needed. I highly recommend it. 
Clive Wilby
In my opinion, the author has produced an excellent book, replete with much useful and practical information, figures, and tables. Many of the references are also very recent (some as late as 2009 and 2010). It is a practical guide and roadmap to making the shift from Process Safety Management programs to Operational Integrity regimes that focus on increasing performance not just in safety, but also in environmental compliance, quality control, and overall profitability.
Stanley Grossel
Ian provides comprehensive guidance on the development, implementation and evaluation of process risk and process safety programs.
Charles Gillard
---
Copyright © Ian Sutton. 2018. All Rights Reserved.
---
Chapters
Chapter 1 Risk Management
Chapter 2 Compliance and Standards
Chapter 3 Culture and Participation
Chapter 4 Technical Information
Chapter 5 Hazard Identification
Chapter 6 Operating Procedures
Chapter 7 Training and Competence
Chapter 8 Prestartup Reviews
Chapter 9 Asset Integrity
Chapter 10 Management of Change
Chapter 11 Incident Investigation and Root Cause Analysis
Chapter 12 Emergency Management
Chapter 13 Audits and Assessments
Chapter 14 Consequence Analysis
Chapter 15 Frequency Analysis
Chapter 16 Reliability, Availability and Maintainability
Chapter 17 Managing a Risk and Reliability Program
Introduction
Phase / Gate System 
Hazards Analysis on Projects
Phase I - Concept Selection
   Documents
   Hazards Analysis
Phase II - Preliminary Design (FEED) 
   Documents 
   Hazards Analysis
Phase III - Detailed Engineering
   Documents
   Hazards Analysis
Phase IV - Fabrication and Construction
   Precommissioning 
   Punchlists 
   Transfer of Care, Custody and Control
   Documents
      Turnover Packages
      Procedures
   Hazards Analysis
Phase V - Commissioning and Start-Up
   Commissioning
   Operational Readiness Review
   Startup and Line Out
   Documents 
      Start-Up Procedures 
      Acceptance Test
      Warranty
   Hazards Analysis
Project Organization 
Introduction
Regulations and Standards
   OSHA PSM Standard
   OSHA PSM Guidance
      Application 
      Employer Responsibilities
   BSEE SEMS 
   API RP 76 
Types of Contractor 
   Contract Companies 
      Selecting a Contract Company 
      Contractor inherent-safety Program 
   Design Companies 
   Subcontractors 
   Contract Workers 
   Maintenance Contractors 
   Visitor / Consultant 
Bridging Documents 
   Operator/Contractor Bridging Document 
   Bridging through a Regulation
Contractor Management 
   Contractor Selection 
   Record Keeping 
   Contractor Training 
   Safety Meetings
   Equipment 
   Infractions 
   Contractor Training 
   Safety Meetings 
   Contractor Evaluation
 Introduction 
The Risk Management Professional
Attributes
   Education and Certification
   Technical Knowledge 
   Holistic
   Numerate 
   Communication Skills
   Industrial Experience
   Knowledge of Past Events
   Professional Involvement
   Network 
   The Resume / CV 
      Level of Detail
      Publications 
      Gaps / Negative Facts
      Multiple Resumes 
      Declining Experience
   Professional Engineer
   Consultants 
      True Expertise 
      The Consultant as Outsider 
      Consultants - Not Doers 
      Quick Study 
      Role of the Client 
      Response to Criticism
      Marketing
Communicating with Management/Clients
   Presentations 
   Meetings 
Report Writing 
   Draft Report 
   Language of the Report 
   Completeness / Thoroughness 
   Personal Information 
   Writing Style 
      Non-Emotional Language 
      Minimalist Writing - Make Every Word Tell 
      Omit Needless Words 
      Short, Simple Words 
      Minimize "Soft" Materials
      Eschew Obfuscation 
      Develop a Theme 
      Modifiers 
      No Typos 
      Date Format 
      Active/Passive Voice
      He / She 
      You / I 
      Choice of Words 
      Use of Humor 
   Copyright 
   Responsible Document Creation 
Anecdotes 
   Stories
   Elements of a Story
      Characters 
      Setting
      Plot 
      Conflict 
      Resolution 
   Sensitivity 
Communicating with the Public
   The Community 
   Other Businesses
   The Media 
   Regulators / Non-Governmental Organizations (NGOs) 
   Types of Public Communication
   Developing a Risk Communication Program 
   Communicating New Paradigms
Trade Secrets (OSHA) 
Litigation Support 
   Use of Legal Services 
   Types of Litigation
   The Participants
   Timeline / Story Line
   Documentation
   The Discovery Process
   Depositions
   Witnesses to Fact 
The Expert Witness 
   Acceptance by the Court 
   Daubert and Frye Rules
   Prior Testimony 
   Timeline / Story Line 
   The Report 
   Attributes of an Expert Witness
      To Thine Own Self Be True
      Be Prepared
      Be a True Expert 
      Be a Teacher 
      "Reasonable" Risk
   Privilege 
Imprint
Gulf Professional Publishing