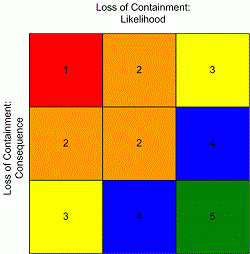 Overview
The purpose of an inspection program is assure management that the facility's equipment and instrumentation can be operated safely and reliably, and that corrective action to identify problems and to take corrective actions when such problems do occur. The inspection program should include the following management features.
The selection of the type of inspection program: rule-based and risk-based (or a mix of the two).
Monitoring of the physical conditions of the vessels and columns, the type, rate and cause of corrosion, erosion, hydrogen blistering, stress cracking or other deterioration.
Monitoring the performance of other equipment, particularly rotating equipment such as pumps and compressors.
Recording of corrosion rates, mechanisms of corrosion, locations of corrosion and inhibitors used including the use of internal corrosion coupons.
Providing management with information to do with types of equipment failure, maintenance and repair methods.
Inspection and maintenance records of pressure relief valves and other safety-critical devices.
Broadly speaking, inspection results can be either "leading" or "lagging". A leading indicator provides an indication that trouble is brewing but that the consequences at this point in time not too serious. Pre-emptive action should be taken.
This type of inspection is often done with corrosion coupons that are inserted into a piece of equipment or pipe and then checked at regular intervals for metal loss. Another type of leading indicator would be an operator or maintenance technician noticing that the performance of a particular piece of equipment is deteriorating. For example a pump may be vibrating more than normal.
A "lagging" indicator that tells management that serious damage has already taken place. An extreme example of such an indicator would be a leak from a corroded pipe.
Table of Contents
Introduction
Regulations and Standards
   API RP 510
   API 653
   API RP 580
Organization
Inspection Programs
   Initial Inspection 
   Routine External Inspection
   Complete External Inspection
   Internal Inspection
   Inspection Frequency
   Non-Destructive Testing
   Continuous Monitoring
Equipment and Piping
   Pumps
   Tanks
   Relief Valves
Inspection Records and Report
Risk-Based Inspection
   Analyze Risk
   Determine Costs 
   Allocate Resources