Articles and safety moments that are included in this topic are to do with operational excellence and management assessments.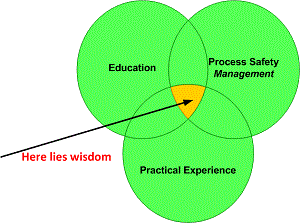 We have developed an Operational Excellence Assessment System to help address the challenge of capturing practical experience, and we decided to follow a similar thought process, i.e., first structure a system and second create a means of establishing a baseline.
The structure is organized around the 18 elements shown below. It is based on the traditional PSM elements but it also incorporates features directed toward field experience.
Culture
Compliance and Standards
Risk Analysis
Safety in Design
Information Management
Hazard Identification
Written Procedures
Safe Work Practices
Asset Integrity/Reliability
Training and Performance
Management of Change
Operations
Maintenance
Human Factors/Health
Emergency Response
Incident Investigation
Operational Readiness
Industries