Safety Moment #24: Personnel Transfer (Billy Pugh) Baskets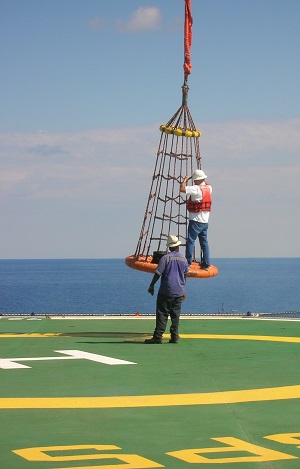 Personnel transfer baskets are used to move personnel from platforms and rigs to and from service boats.
Net Baskets
The traditional type of basket, sometimes referred to a Billy Pugh basket, consists of ropes attached to a hook at the top and a circular frame at the bottom. Riders stand on the outside of the basket looking inwards.
Use of the transfer basket looks dangerous. A person is swinging over the ocean or platform machinery on the outside of the basket. They could fall to their death just by letting go. Yet, in a YouTube video, Liberato states,
The irony is that statistically, you are MUCH more likely to die in a helicopter transfer than a personnel net transfer.
The operation and use of personnel transfer baskets is shown in various other YouTube videos. How to Billy Pugh is representative.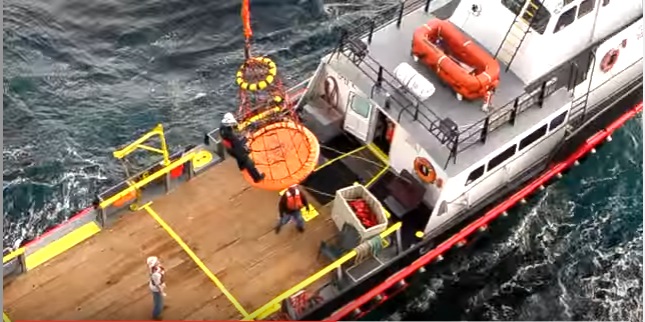 Flotation
The flotation built into the base of the basket serves as a temporary life raft. It should be equipped with a tag line that is free of knots and at least 3 meters in length. The flotation has a shock-absorbing suspension that cushions impact when the basket is lowered to the moving deck of a boat.
Rigid Frame Baskets 
In order to improve safety some companies are using rigid frame baskets, with the personnel being inside the frame, rather like a cage. Although this approach does reduce the risk of falling, it does raise the concern that the personnel inside the frame might not be able to escape if the basket goes underwater.
Two types of rigid frame basket are available. The Esvagt model has a rigid frame construction with buoyancy ring and fenders. Personnel stand inside the basket. Another design is the Personnel Transfer Capsule: a rigid frame device with buoyancy panels. Personnel sit strapped into bucket seats.
Operational Guidance 
The following guidance is provided for use of personnel transfer baskets.

. . . . .
 
You are welcome to use this Safety Moment in your workplace. But there are restrictions — please read
Use of Safety Moments
.
Copyright © Ian Sutton. 2018. All Rights Reserved.